I have finally managed to make a new blog button for anyone who is interested. Just copy the HTML in the little box and you are good to go!


And….. if I've ever featured you here on The Sweet Life and you were just so sad that I didn't have a "featured" button……it's your special day! I finally have one for you!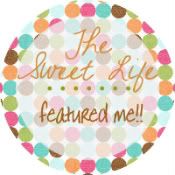 I hope you had a great start to your week. I'll be back tomorrow to share a little something I've been sewing on.